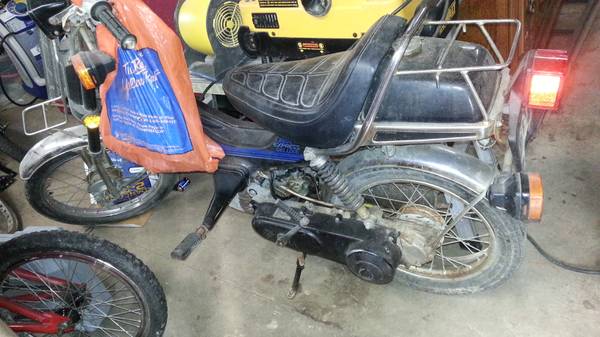 Here's an Urban Express but doesn't sound promising. Posted in Columbus, Ohio in January 2016.
Description: Complete 1983 Honda Urban Express noped for parts or repair,
Runs but has a noise in engine that's been there for several years .
Has many great parts to resell or repair and ride,
Kick start type ..
Price is 375.00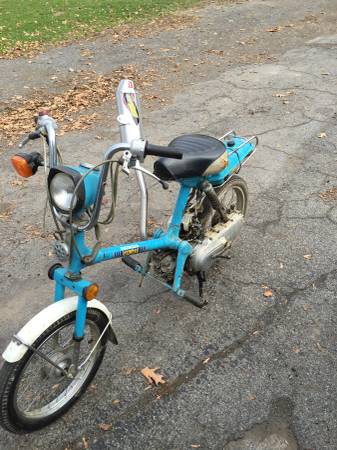 Posted in Buffalo, NY – asking $300 – no title mentioned – 1981 Express
Description: Selling my 1981 Honda express in good shape, runs great, brakes work, horn works. Asking 300 obo call or text with any questions. The pic is from when it had a different exhaust on it to see what looked like. Moped is all original now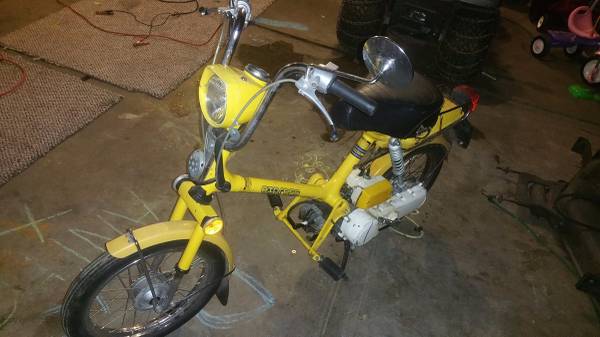 Yellow 77 Honda Express, asking $800, posted in Flint, MI, no title mentioned
Description: Very clean rare 1977 honda express 50cc moped.
Needs a good carb cleaning due to sitting for a while. Open to cash or trade. Let me know what you have.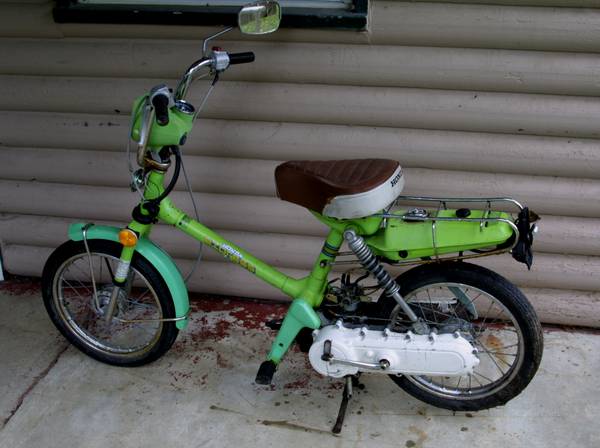 Green 78 Honda Express, asking $215, no title mentioned, Syracuse, IN
Description: Early desirable 1978 Honda Express Scooter in good condition. Does not run. Engine or Transmission
locked. Needs TLC. Repair it or lots of good parts.
Asking $215.00 – recently updated to $275 after it didn't sell on ebay CALL ONLY ( No emails or Texts)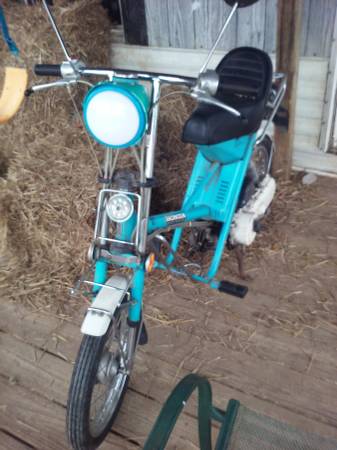 1979 Honda Express 2, $650, no title mentioned, Cincinnati, Ohio
Description: 1979 Honda Express 2, mint condition. Runs perfect, but is missing the key. Asking $650. May trade….like dogs, livestock, toys, etc. Let me know what you have.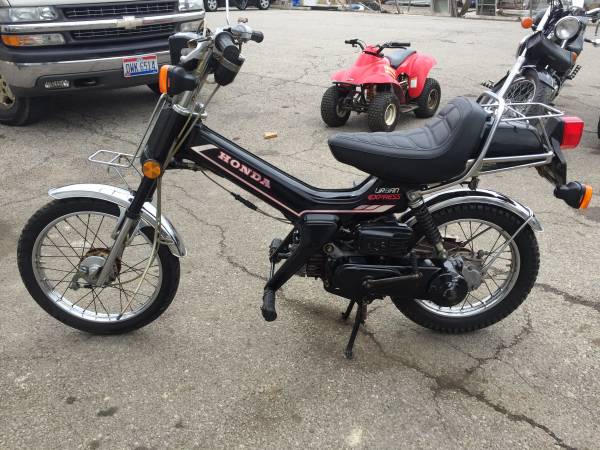 Honda Urban Express, $695, no title, Marion, Ohio
Description: HI I HAVE FOR SALE A REALLY NICE LITTLE SCOOTER. GREAT GAS MILES 50CC OIL INJECTED TWO STROKE. EVERYTHING WORKS AS IT SHOULD EXCEPT IT NEEDS A SPEEDO CABLE (I HAVE ONE ORDERED THAT IS INCLUDED) CLEAN TITLE READY TO GO. GREAT FOR A PIT BIKE OR THE CAMP GROUNDS.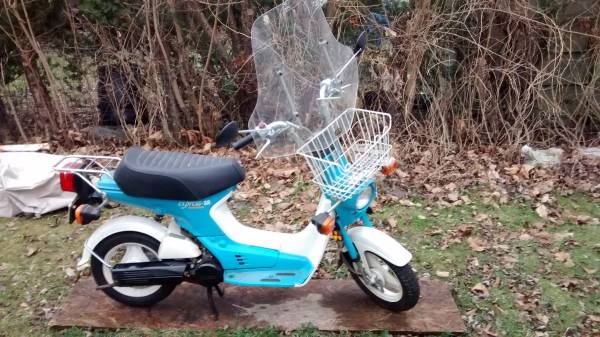 Posted in Ft. Wayne, In -asking $800, no title
Description: 1982 Honda express in cherry condition, this classic is like new, light blue and white, riot shield, runs excellent, only 800 miles on this vintage scooter!! Text for details or pictures, cash only!!!! Thanks, JC

Before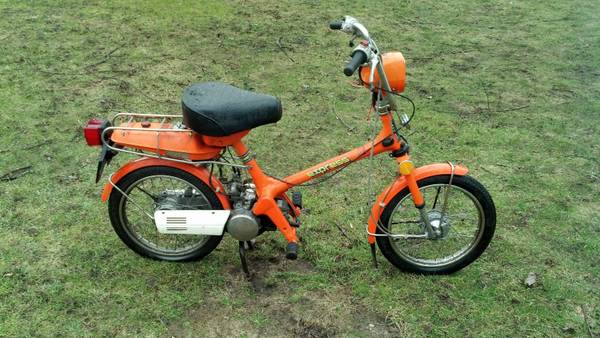 After
Posted in Shepherd, MI, asking $700, no title mentioned. Clean it up and get it running if you want it to move at that price.
Description: 1977 Honda Express, Runs good. Oil injected two stroke. Great shape. Will need the carb cleaned out. Make offer moving and need this gone.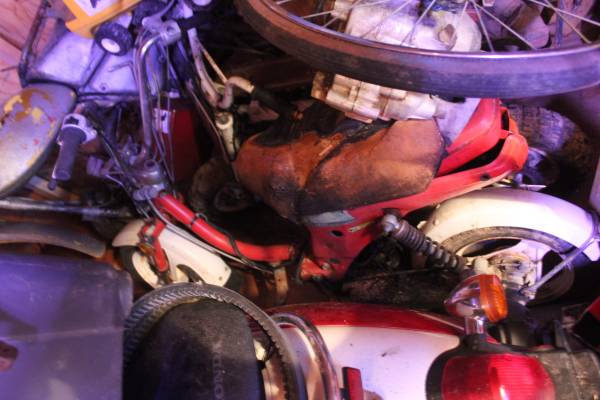 Posted in Martinsburg, W VA, $50
rough honda express, i did ride it once but crank seals are gone, will need rebuilt or part it out.
$50 cash or card
March 13, 2016 update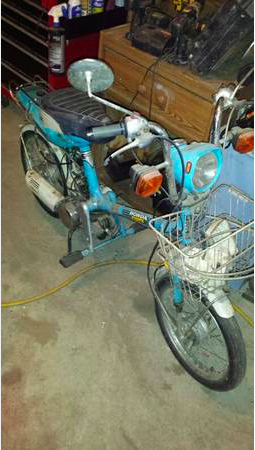 Description: i have for sale a 1978 honda express runs but wont stay running i know alot of people collect these or buy them for parts $150 obo call or text
Posted in Buffalo, NY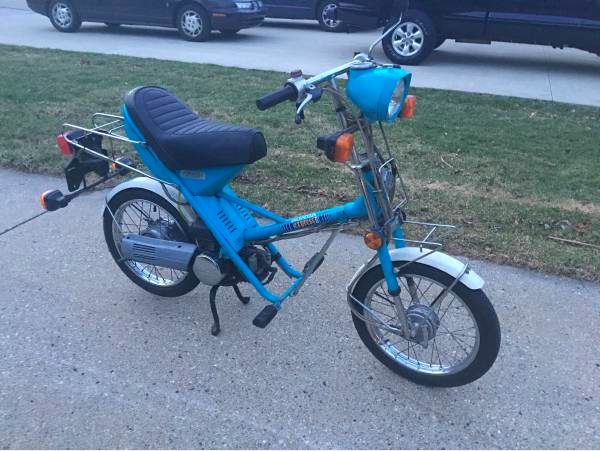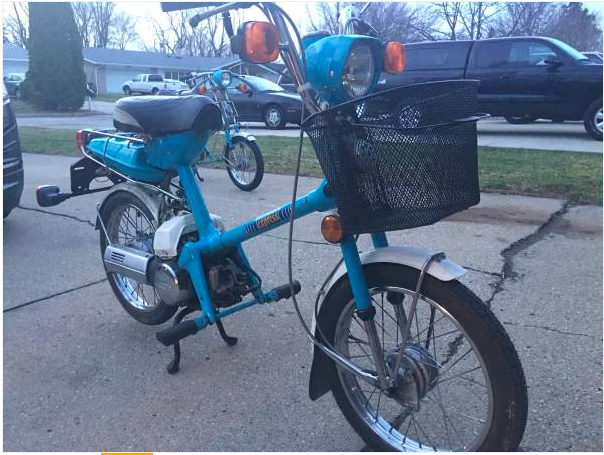 Asking – $995
Description: Two 1981 Honda Express, Express II mopeds. All original, complete and running. Under 1300 miles on each. Unbelievable condition for the age, 35 years old. Run like their new. Won't last, selling as a pair. His and hers. Firm! No trades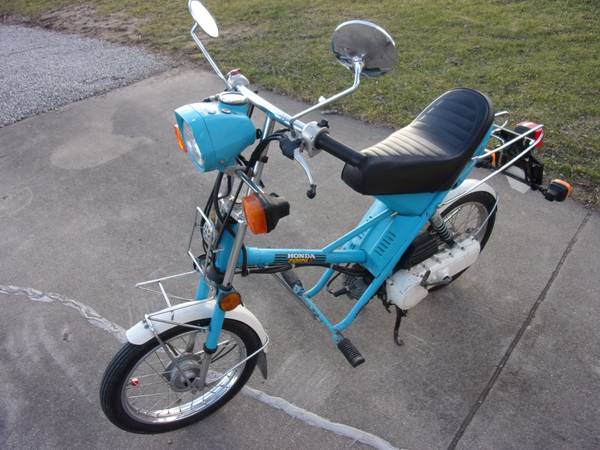 Description: 1980 Honda Express 2 Moped. Has 1226 Miles. Has new crank shaft seals. Carb rebuilt. Gas tank clean. New head light. Signals work. Horn works. No title. $650.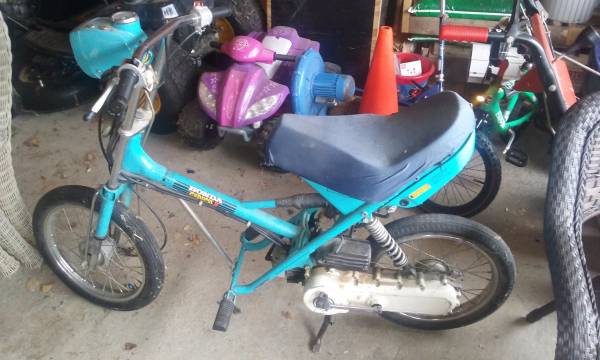 Description: 1980 honda express 2 all original. Missing a few parts. No fenders or basket. turn signals had been cut off prior to myself purchasing it. And it is missing the exhaust. Just stopped running over the summer haven't had time to find out what's wrong with it. Im furm on the price so serious inquiries only please. I know what it's worth and what it cost to fix it. Please call. $300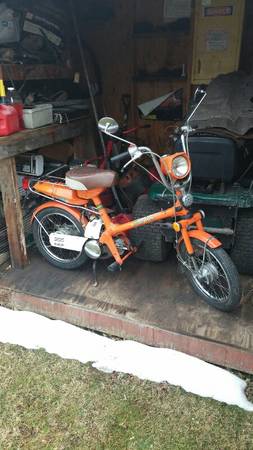 Description: Time capsule Honda NC 50 scooter in great condition. Runs and drives great. 500.00.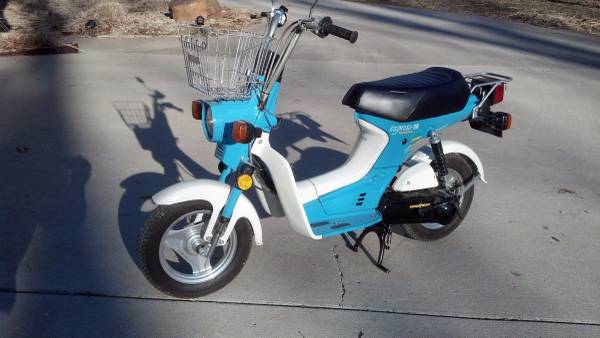 Description: This is a one owner unit and has been well maintained. Turns all the heads at the beach. Please call if you have any questions.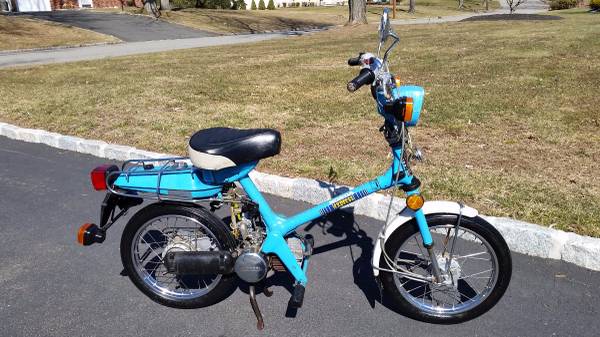 The rarity of the Honda Express rear fender strikes again!
North Jersey, 1981 Honda NC50 Express, NO TITLE, 2150 miles
New aftermarket carburetor. New air and fuel filter. New petcock. New fuel line. New sparkplug. Trans fluid just changed.
Good front and back brakes. Good tread on tires and they both hold air. Speedometer and odometer work. Tops out at 26 mph on flat pavement. Not sure if the lights work since i don't use a battery in it. Runs on 40:1 premix. Still have the oil injection pump.
Runs and drives very good. This is not cheap junk from china, it's a honda. Asking $750.
If the ad is up, it's still for sale. Texting or email preferred. Thanks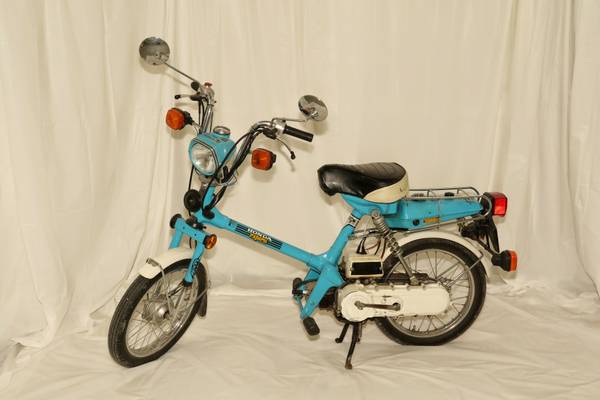 Ft. Wayne, Indiana – $450
1980 Honda Express Moped, runs well. New battery last fall. All original parts.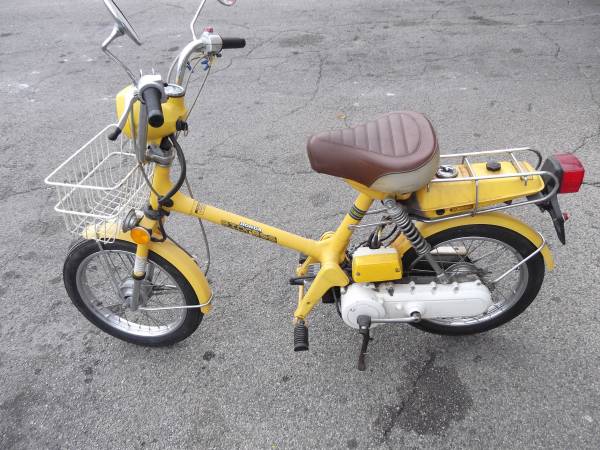 Sound Bend, Indiana – $600
1978 Honda Express Motorbike 50cc Complete. Great Looking Bike. Runs Good. Low Mileage. No Texts Please. Serious Inquiries Only.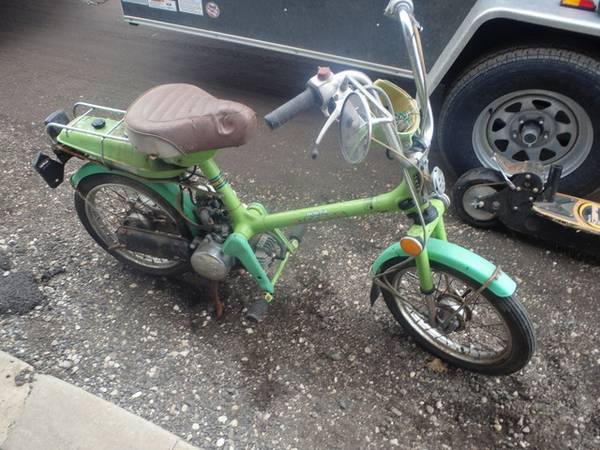 Racine, Wi – $150
The is an old Honda Express Model 1978 gas scooter. This is not working and being sold for parts/repair. I don't know why it does not work but there appears to be numerous issues with the scooter. Might be repairable by a skilled person, otherwise there are probably some parts that could be used, repurposed or sold. NO title, though I doubt these had any.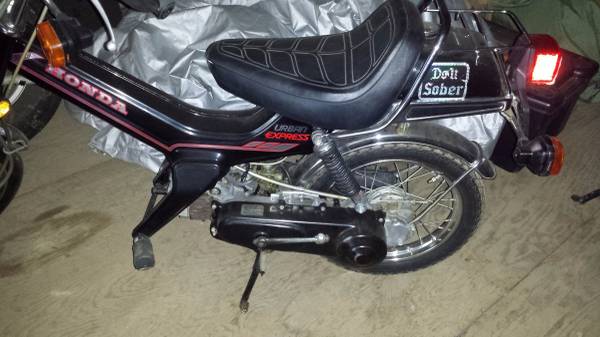 1982 Honda Urban Express – Pittsburgh, $450
I am selling my 50cc Urban Express. No title or paperwork with it. It has been sitting covered in a garage for 2 years and not run. New gas, clean carb and some air in the tires, should be ready to roll. If interested give me a call or shoot me a text or E-mail. Thanks for looking. Joe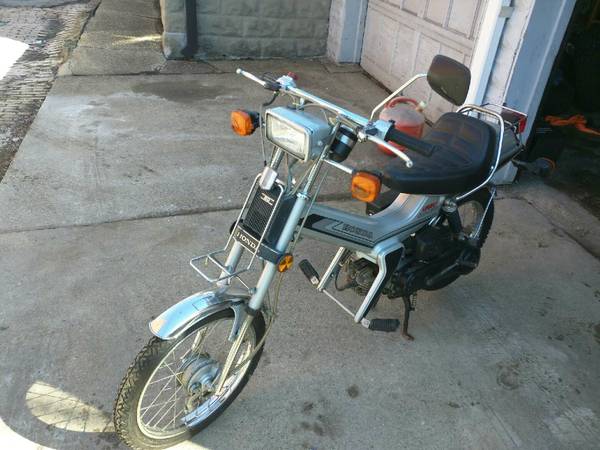 North Hills, Pa – $1000
Selling 82 Honda Urban Express currently just needs a battery to start has 2500 miles on it any questions feel free to call 1000 obo
Thanks Russ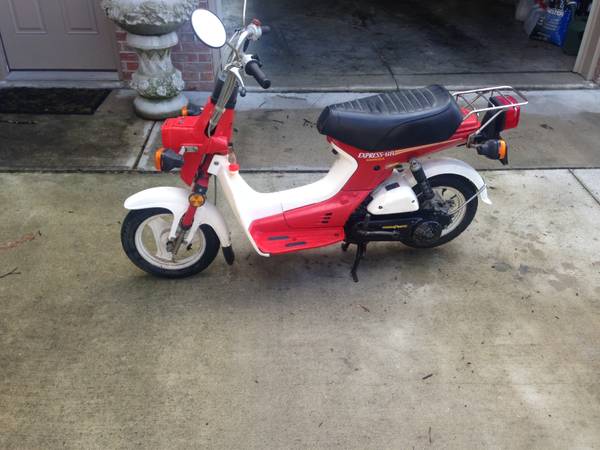 Terre Haute, Indiana – $500 apiece
82 Honda express a true barn find these were one owner vehicles there are two of them price is per unit by barn find this does mean that they have not been started in a long time. a little elbow grease and you have 2 rare bikes selling for double this price on ebay. I have purchesed 2 new batteries and have cleaned the tanks . waiting on the tank valves to start them. $500.00 for both this week only.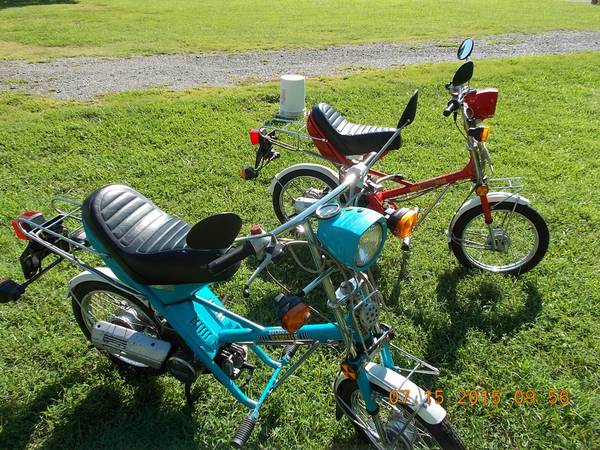 Asheboro, NC – $2200
I have two 1981 honda express two speed auto vintage bikes. These bikes are in very good condition to be 34 years old. and yes they do run. I bought them as a pair as is and would like to sell them as a pair. as is. I picked them up from a cpl up in winston that had them stored in their basement. I am asking $2200 for the pair OBO I may consider a trade on a older bike, Thanks for looking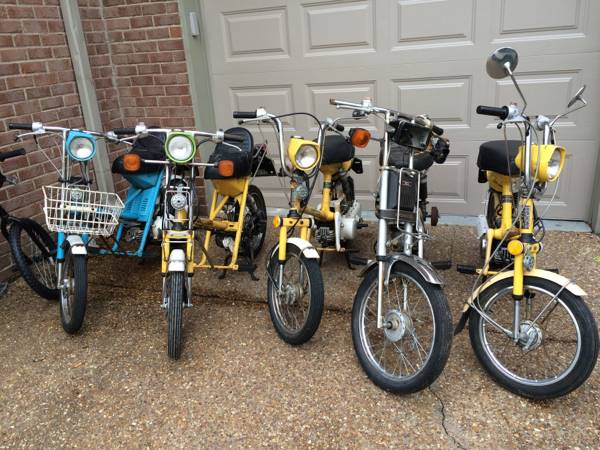 Nashville, Tennessee
These classics are great fun and get about 100 miles to the gallon. Forget the Chinese junk and buy a collectible that will hold its value. I have several priced from $450-$700. Call or text.
Clarksville, TN
This moped is in very good condition. Has always been garage kept and has brand new tires.
Price is firm 450.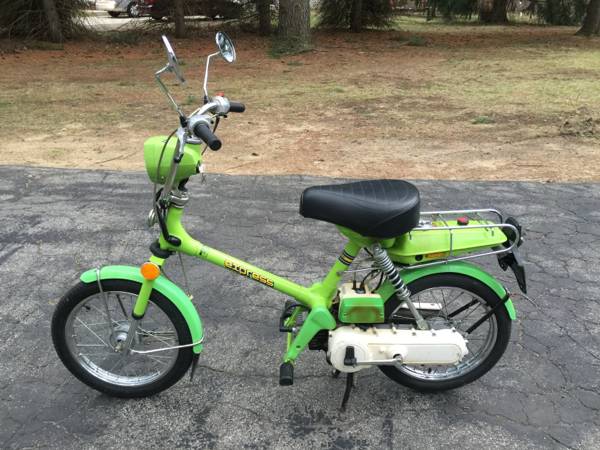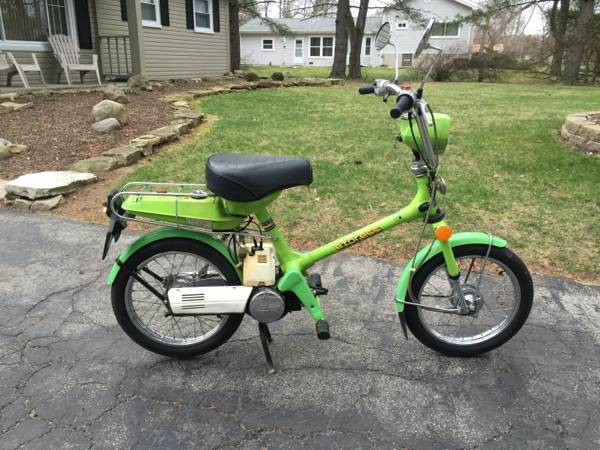 Sylvania, Ohio $800
Selling my 1977 honda express nc50 moped scooter with only 1,345 original miles. Bike looks, runs and rides great. Starts right up and idles perfect no issues. No trades please. Thanks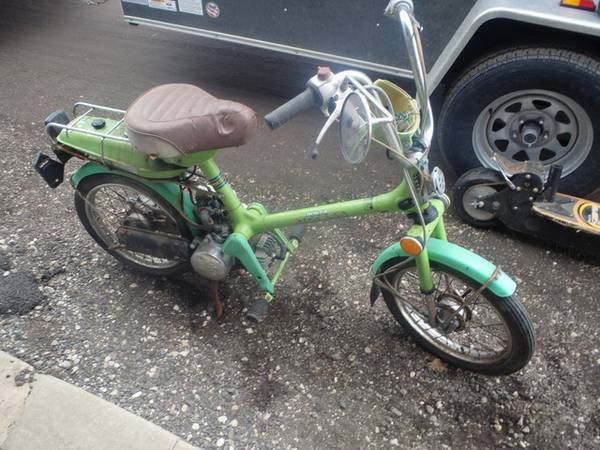 Franksville, WI $150
The is an old Honda Express Model 1978 gas scooter. This is not working and being sold for parts/repair. I don't know why it does not work but there appears to be numerous issues with the scooter. Might be repairable by a skilled person, otherwise there are probably some parts that could be used, repurposed or sold. NO title, though I doubt these had any.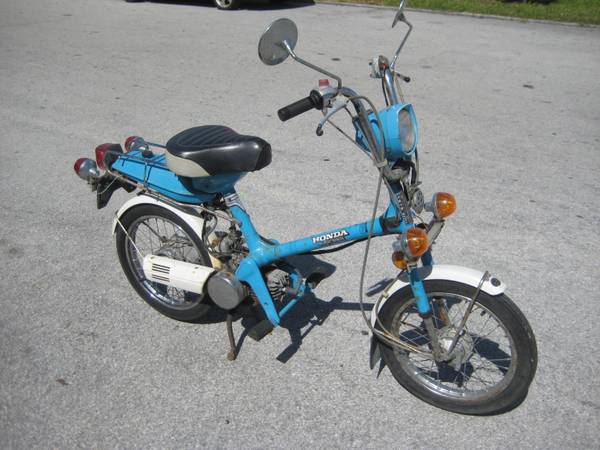 Chicago $675
1979 Honda Express with only 627 miles… that's less than 18 miles a year.
New battery and just rebuilt carb. Runs excellent!
No title… bought it from Missouri where no titles on 50cc scoots is required.
for sale electric start moped or kick start new tires, new battery all lights work, brakes great, chrome good, looks good. clean title starts rt up. 500.00 firm
Binghamton, NY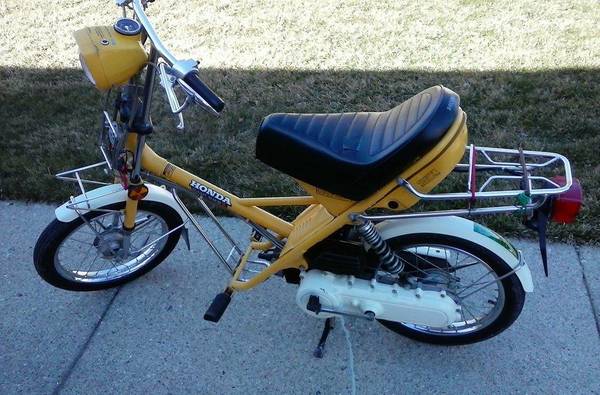 Great antique scooter, only 750 mi. new battery, spark plug, cleaned carb, new oil and fuel, new registration good til 2019. Asking $975 obo, cash talks. call Tom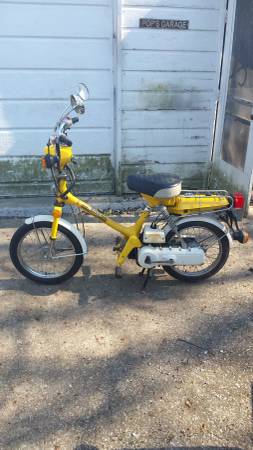 1980 Honda Express moped…Real vintage for a great price. Won't last long!! $475 Louisville, KY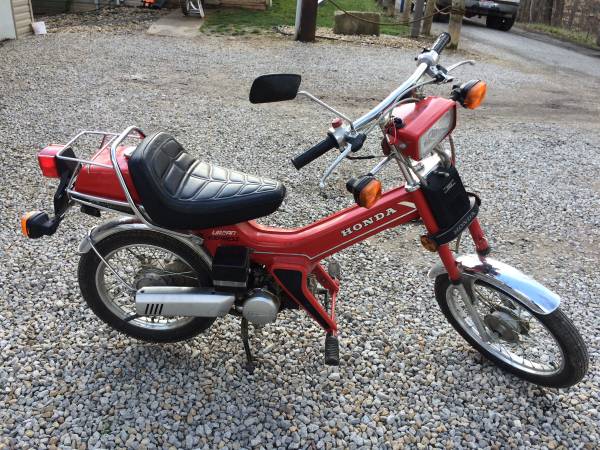 1983 Honda express 2 cycle moped it's in really good shape
$550 Athens, Ohio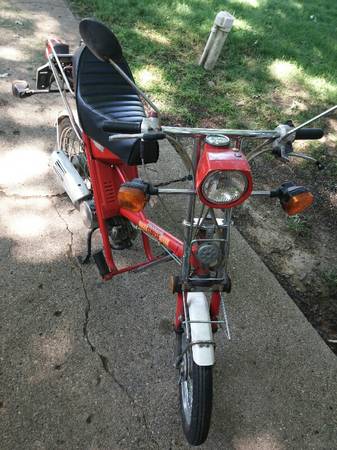 1981 Honda Express 2.
This little thing fires right up and smokes very little (only when it first runs). It is oil injected and has 2 separate chambers for oil and gas. No mixing required. 2 speed automatic shifts really well. I'm 6'6″ 240 and play on this just fine. Does around 28mph too. I just recovered the seat last week. Stock air box is missing (easily gets kicked off). Battery was new last fall, little weak from the winter. Kick starts only anyways. No title. Headlight does not work either. Runs surprising well though. Great camp ground mobile!! Asking $380.
I've got a 1982 Honda Iowa urban express moped scooter for sale. Does not run! Needs work motor turns over and has compression! Should make a good project bike! Does not have title! It's a 50cc bike. Any questions call Chris Cincinnati $225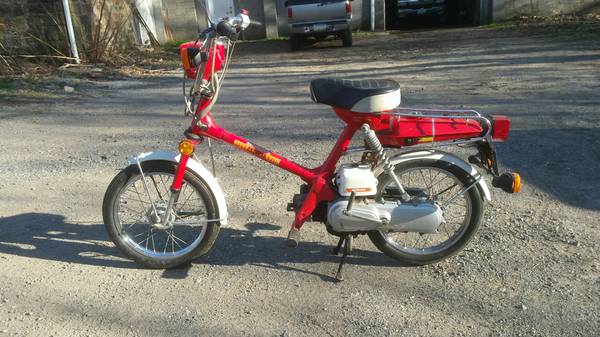 $575 Ellwood, Pa
All original and in very nice shape. no title. make a great pit bike or for camp. no trades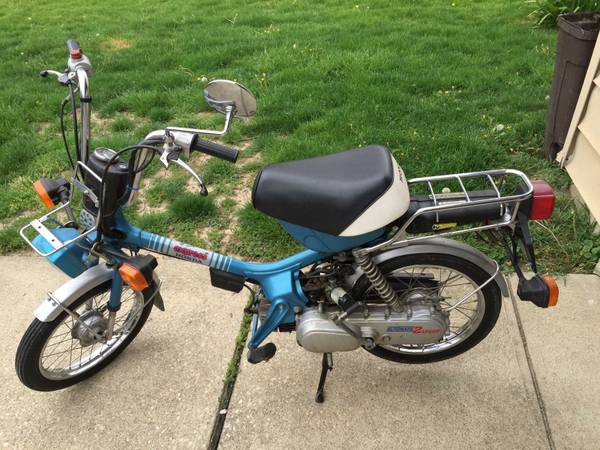 Grove City, Ohio $750
1982 moped in nice shape for age runs good! "HONDA"Express 2 speed automatic.Great for camping or a collector or whatever.runs smooth.easy to transport.located in Grove City.
show contact info
asking $750.