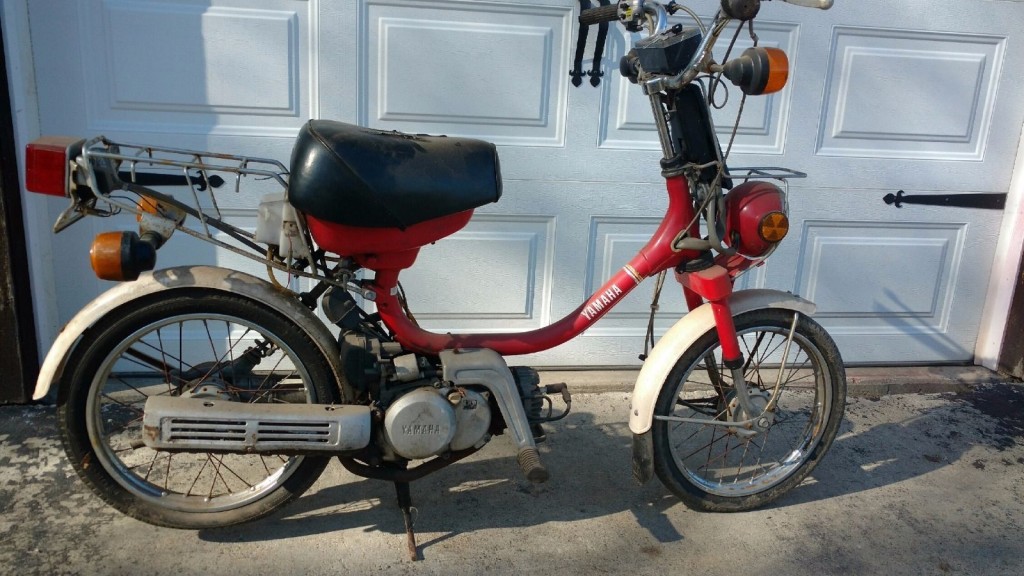 Kennedy, NY
You are bidding on a 1979 Yamaha QT50 moped. I bought this a couple years ago with the the intent of fixing it up , but due to TO MANY projects I would like to pass it on. I was told this was running when parked several years prior to me buying it. It sat in a basement for what I was told was " FOREVER ". The engine turns over just fine and seems to have great compression so in my opinion it will run. Please look at all the pictures carefully, it is NOT perfect , but it does seem to be mostly complete and in good overall condition. It is just as I purchased it, I have not cleaned or tried starting the bike. I have NO TITLE for it so if that is a issue please consider it before bidding I also have a service manual for it which I printed out. Please ask any questions and I will do my best to answer and thanks for looking. Local pickup only.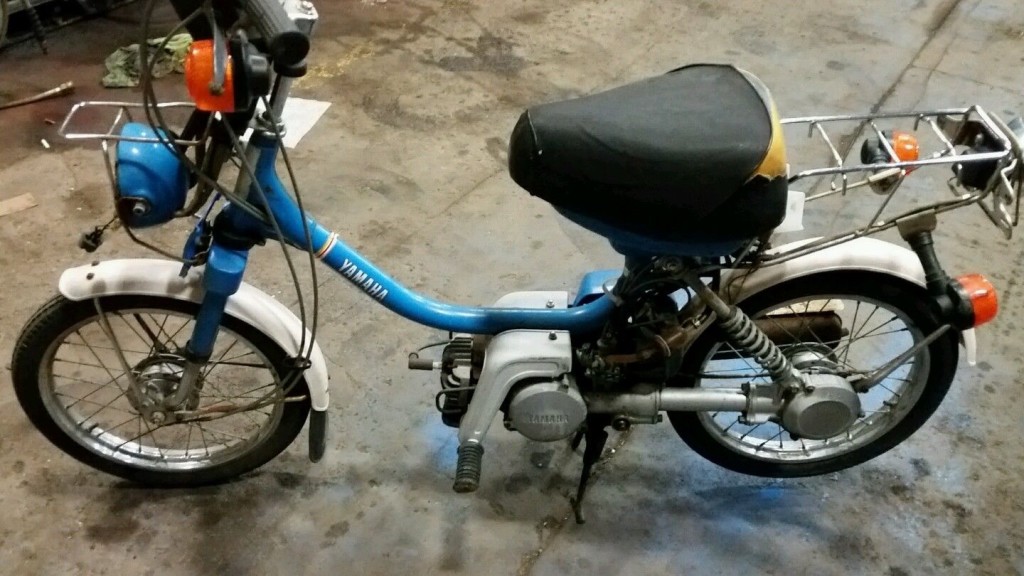 Milwaukee, WI
I am parting out this entire machine. Please contact me with any questions about bike or any parts you are looking for. Looking for best reasonable offers on everything.
Shipping and handling will be as reasonable as I can make them.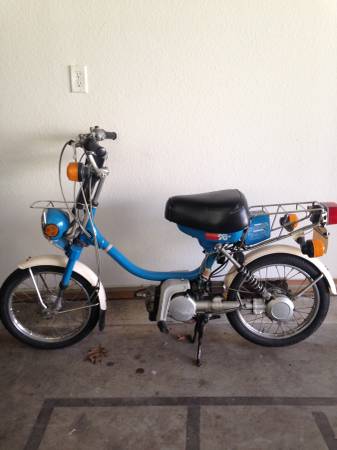 1982 Yamaha Qt50. 2990 miles. 49cc. Runs and drives good. Tires are in great shape. $300 Chambana, Illinois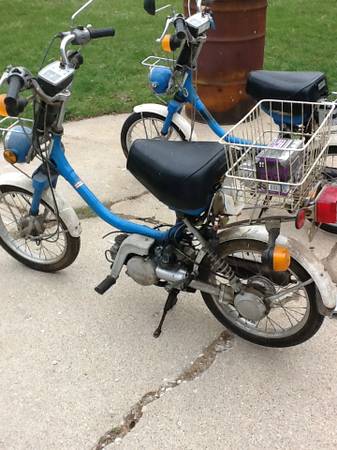 Milwaukee, WI – $600 for pair
I have 2 project scooters for sale. One is a 83, I know because I do have the title (it's the one on the right in photos, no basket on back). The other I'm not sure of (bill of sale only) but they are the same moped! We ran them around out at the cottage years ago.
The one with title did run last year, had it out a few times but still needs a little work to be reliable. I have not tried starting it yet this year.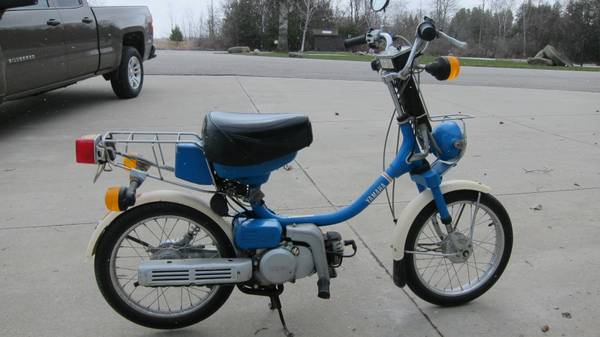 The Thumb, MI $400
I have for sale a 1985 YAMAHA QT50. Overall condition is excellent for a 1985. Runs good. Could use a tuneup. Cosmetic condition is good. Has little rust specks on rims. Does not have battery in it. (runs with out battery)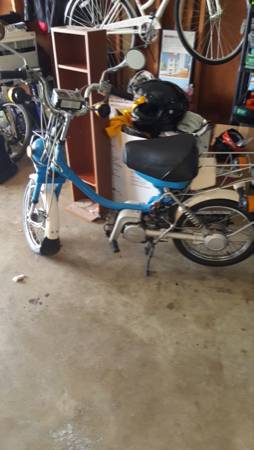 Posted around beginning of February 2016 in Columbus, Ohio
Description: Vintage 81 Yamahopper, great shape, runs fine and starts easily. New Carb, New Tires, New Seat Bucket and Seat Cover. Front brakes need replaced back work fine, all electronics work. 1600 miles. No title, as is. Max speed 30 mph, we have the mirrors just are not in the pics.
Asking – $700
Thoughts: Probably a bit high for a QT50 with no title. Does have low miles. I would think for that kind of asking price, everything should be perfect. Front brakes are about $12. Just do them. Most of your stopping power is in the front anyway. $400-$450 seems more appropriate for a QT50 with no title if everything is working as it should.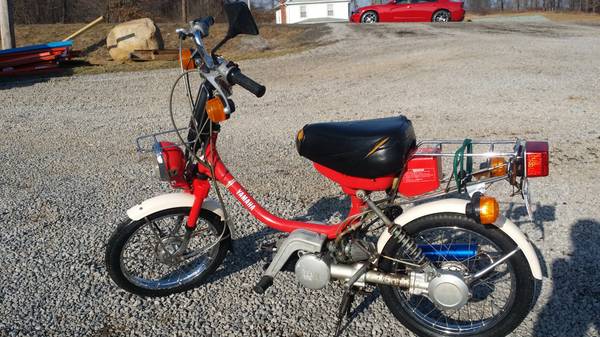 Posted – 2/23/16 in Youngstown, Ohio area
Description: or sale is my 1980 yamaha yamahopper. it has 2280 miles. this thing purrs lime a kitten and needs absolutely nothing. turn key ready and street legal with clean ohio title. it's factory 50 cc but I installed a 65 cc big bore kit and a tuned exhaust. otherwise stock. will run 35+mph all day . very very nice original condition. has minor cosmetic flaws but all original nice condition. seat had a few tears but very comfy still. new covers are 20 bucks. I rode this almost daily in the summer for 2 yrs but have since relocated and live where speeds are too high to ride otherwise I would never sell. 600 cash firm firm firm only takes it. any questions call or text anytime at – , Rob
Thoughts: As of March 19, 2016, he is firmly down to $550. No mention of title so I assume no title included. New seat covers run about $25-$30. Why not fix it if you are asking top dollar. Hoppers run hot with bigger top ends like he has installed. I would hope to get closer to 40mph with what he has done. I would ask when he installed the kit and how many miles he has put on it since installing. Again, with no title, I think you are looking at $400-$450 if everything is as it should be.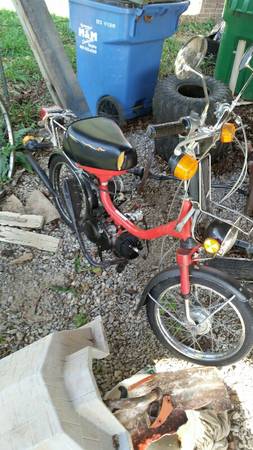 Posted – 2/1/16 in Danville, KY
Description: 85 yamahopper qt50 that runs an rides an is in great shape for its age I use to ride it daily even redid motor with new parts haven't rode it since last spring after got me vehicle can send more pics text call
Thoughts: Can't make out what kind of exhaust that is in the pictures. Painted fenders. Title included. $300 seems like a bargain if it runs right. Even if it doesn't, still a bargain.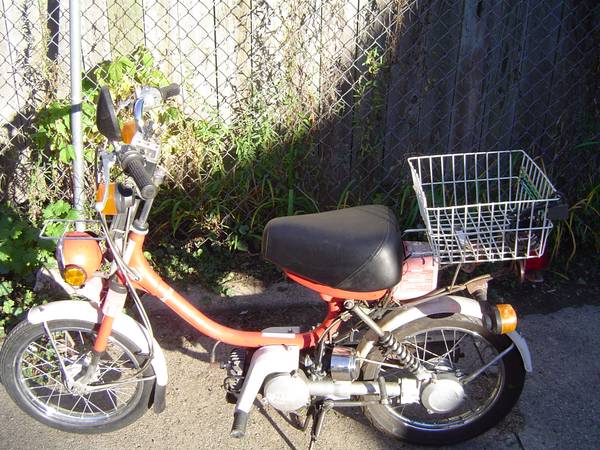 Posted – 2/5/16 in Grand Rapids, MI
Description: 1985 Yamaha Yama-Hopper
Tagged & Running
$900 OBO
Thoughts – I don't think you need title in Michigan but not sure. $600 tops if not.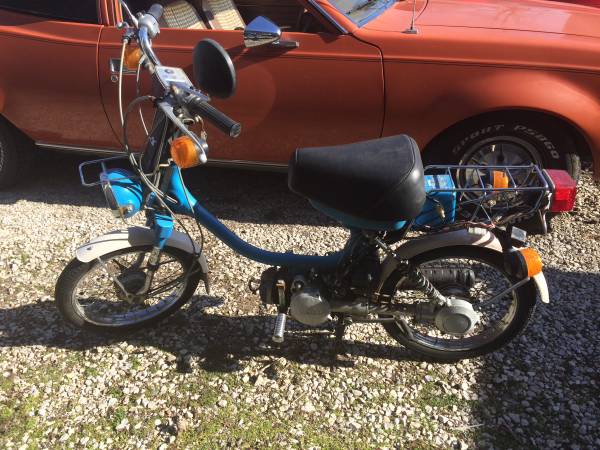 Posted in Vincennes, Indiana, Asking $450, no title mentioned
Description: I have my 79 Yamaha qt50 first off selling to. A good owner this thing is a classic IT WILL out last any off brand Chinese moped out there! 2 stroke but it mixes it's self so u can go right to the gas station. Starts first kick brand new back tire and rim, two turn signals don't work needs a little tlc , but I've drove everywhere I would trust it daily driver, no low offers I know what I have in it no trades cash only text me for questions no title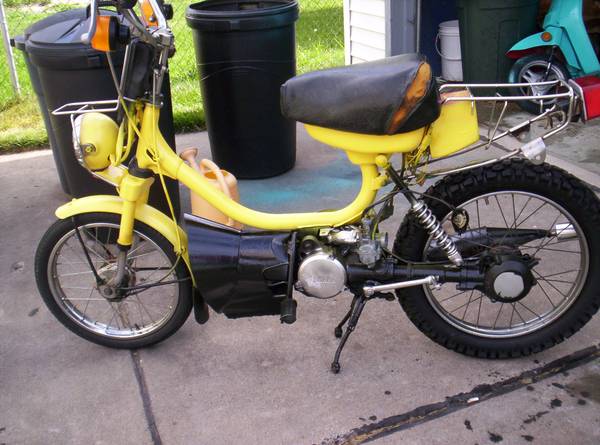 Posted first week of February 2016 in Detroit, MI
Description: 1980 Yamaha Moped looking to trade for van or pickup that runs or $500 cash for more info call jeff @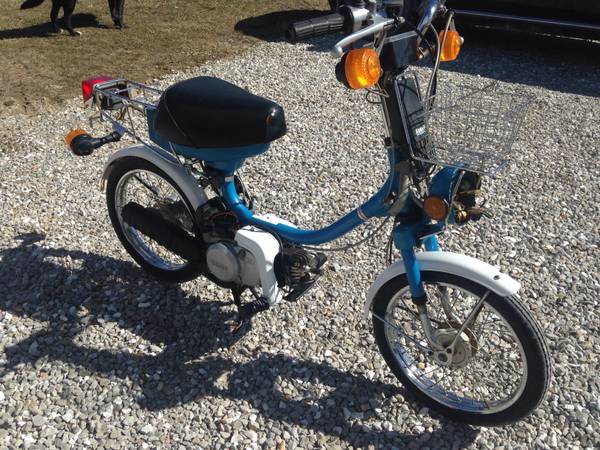 Asking $750 in Columbia, Missouri
I bought this from the original owner who never titled the bike.
I've never tried to title either
Will provide bill of sale
49cc road legal just about anywhere
Runs great
Well taken care of and clean
Good tires
Lubed cables
2844 miles
Needs a headlight and turn signal bulbs to be finished. Just come and look at it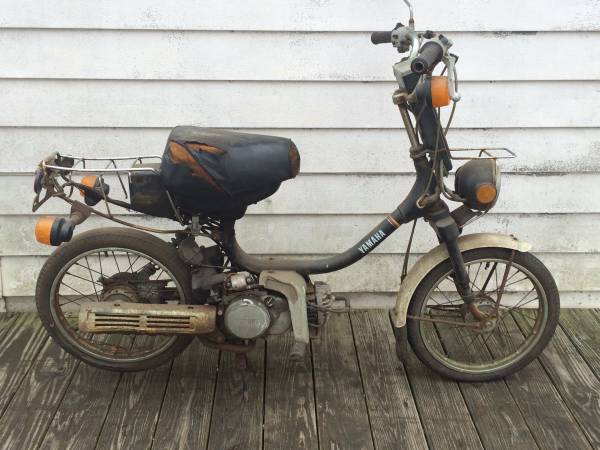 For sale is a Yamaha QT50 Moped
Doesn't currently run
Been sitting for a while
Good winter project.
Selling cheap!
Asking $225 cash, Long Island, NY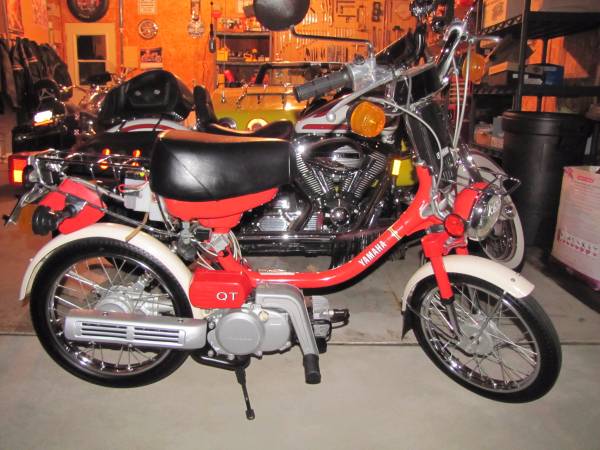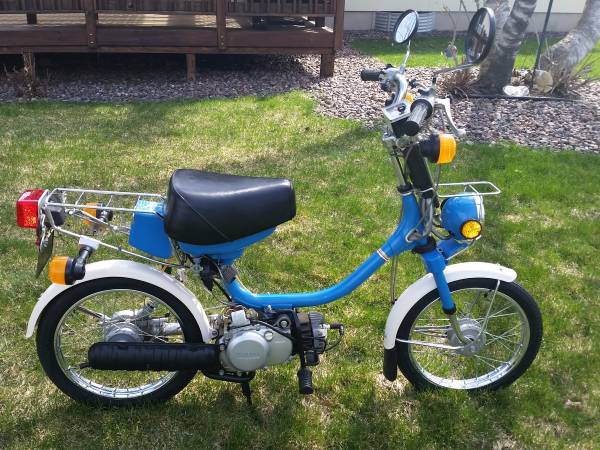 I HAVE (2) 1982 YAMAHA QT50 MOPEDS. ONE IS (RED) & THE OTHER IS (BLUE). AUTOMATIC TRANSMISSIONS, 50cc ENGINES. BOTH IN "EXCELLENT" CONDITION, BUT NEED "BASIC CARB. TUNE-UPS" FROM BEING IN STORAGE. BOTH HAVE "SUPER LOW MILEAGE (RED HAS 910 MILES & BLUE HAS 1,438 MILES). BOTH HAVE "CLEARED TITLES w/ NO ISSUES". $600.00 EACH OR $1,000.00 FOR THE (PAIR). NOTE: YAMAHA'S ARE MANUFACTURED IN JAPAN. REPLACEMENT PARTS ARE EASILY AVAILABLE. THESE ARE NOT KOREAN OR CHINESE "THROW AWAY BIKES". YOU WON'T FIND NICER "YAMA-HOPPER'S" AS THESE! BUY EM NOW AND BE READY FOR FUN RIDING TRANSPORTATION OR FOR JUST CRUZIN AROUND THE NEIGHBORHOOD! Eau Claire, Wisconsin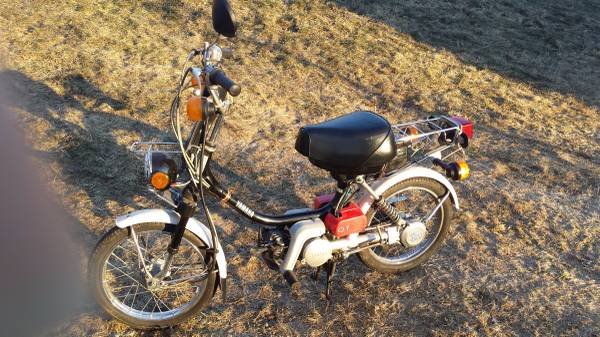 Scoot is in excellent condition, under 300 original miles! Starts easy and runs great. Needs nothing to be put on the road. Great for running around town, college or use at your camp. Oh yeah, scooter has brand new tires! $650, New Hampshire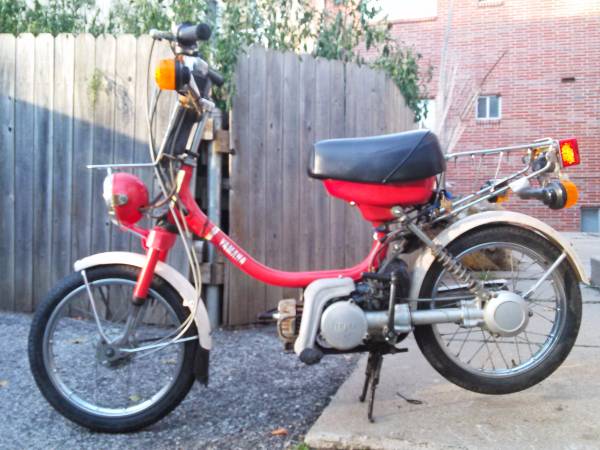 Completely ran through mechanically runs and drives great. Lots of new parts (carbueretor, brakes, kickstarter assembly, cdi, tires, top end rebuild)Needs new battery and bulbs for turn signals. Very little rust. Local Cash Sale only No Cheapskates cash in hand for test ride.(four 02)2zero1-4eight67. If you don't have cash ready to buy don't bother calling!!! $500, Omaha, Nebraska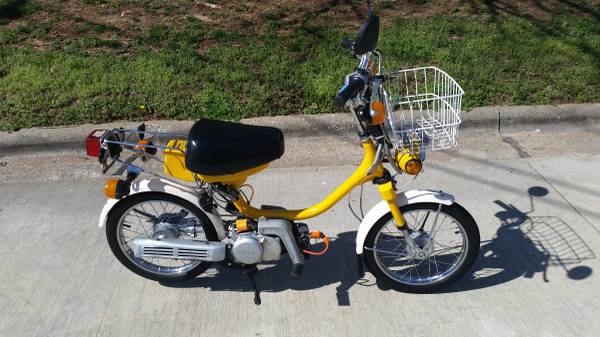 The elusive yellow QT50!
Springfield, MO, $600
1982 Yamaha qt50 moped for sale. Great for commuting around town. Runs and drives great. No Title, but will provide a bill of sale.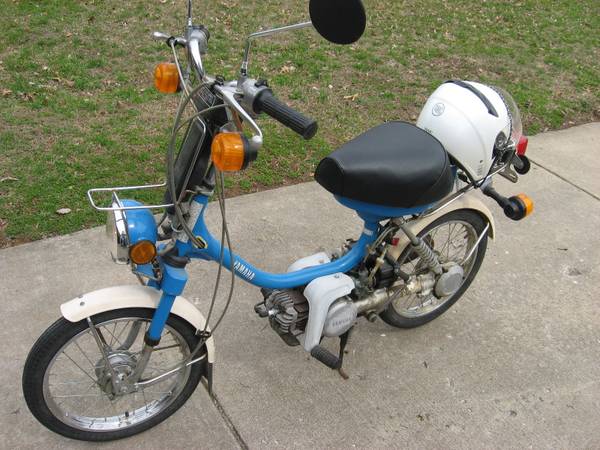 Springfield, MO – $650
Starts easy–runs great–everything works–automatic fuel/oil mixing and very enjoyable to ride. If you can ride a bicycle you can ride this. I have lots of spare parts for this and it comes with a helmet–original key and a bill of sale which I will have notarized if you wish. I will listen to reasonable offers on this. I don't need help to sell it. Cash only–no checks. Please no texts–my phone won't accept them. Phone calls or email only and I prefer to talk to a potential buyer. Thanks for looking.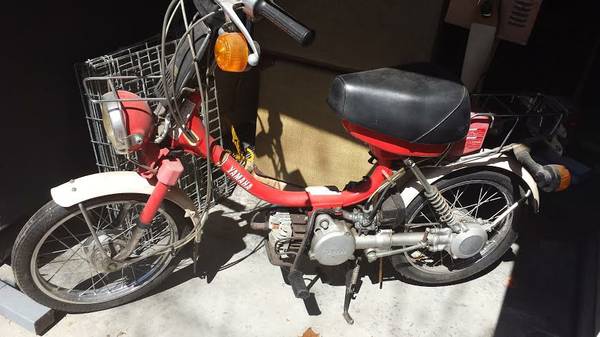 Orlando, Fla – $500
1986 YAMAHA YAMAHOPPER
MOPED SCOOTER.
309 ORIGINAL MILES…
AMAZING CONDITION, ALL ORIGINAL!!!
ASKING $500 OBO-
CLEAN TITLE IN HAND…
CAN BEE SEEN IN WINTER PARK.