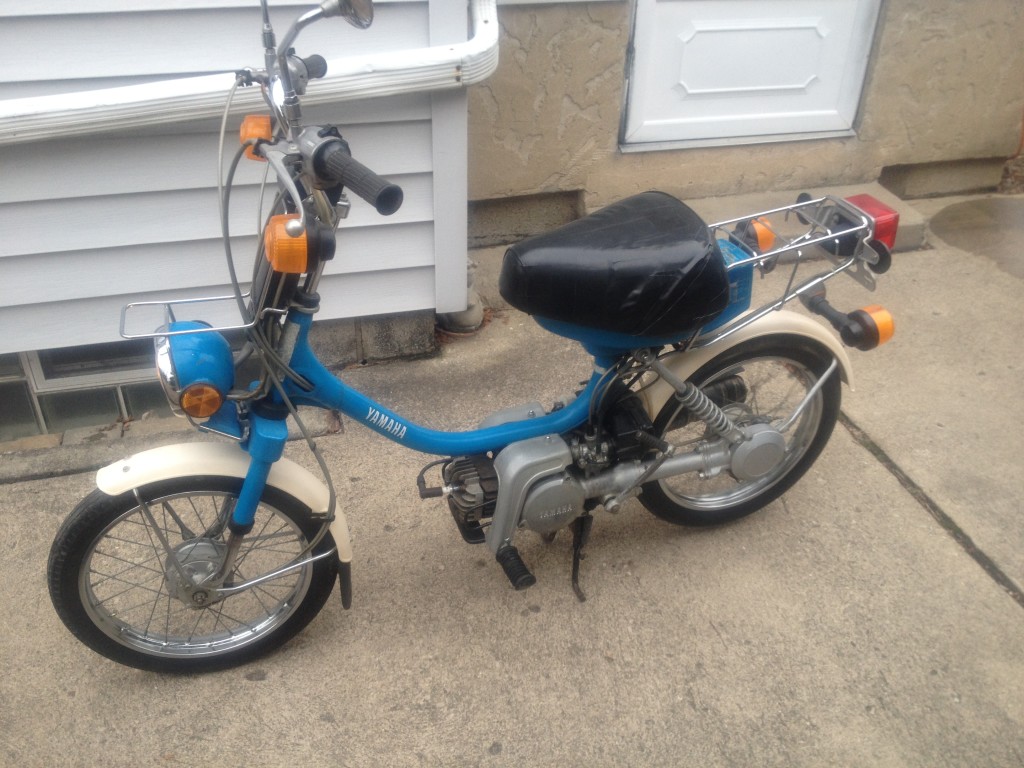 A lot of times, its easier to find parts on eBay and through google if you know the part number. I'm going to start assembling part numbers here for quick reference.
Engine
Yamaha QT50 needle bearing (aka cylinder bearing, needle cage bearing) – 93310-416F7
Of note, Stihl makes a chainsaw (MS250) which has a very similar needle bearing that might work. I've found it on eBay for as little as $5. I may have to give it a try. Dimensions are 10x13x12 which are within a millimeter of stock bearing. I think the 10mm measurement is most critical. I'm assuming that would be the diameter. I'll get one and report back. Ok, just ordered one from China for $1.69.
Yamaha QT50 standard size piston rings – 260-11601-03
Standard piston – 18U-11631-00-A0
1st over piston (0.25) – 3L5-11630-10-00
Superseded by part no. – 18U-11635-00-00
2nd over piston (0.50) – 3L5-11630-20-00 or 18U-11636-00-00
needle bearing, piston bearing – 93310-416F7
Yamaha QT50 circlip (piston clip) – 93450-11021
Wrist Pin – 2E9-11633-00
Intake Gasket – 3L5-13622-00
Oil Seal – 93106-17015-00 & 93102-15267-00
Clutch Spring – 3L5-16627-02
Clutch Housing – 3L5-16611-02
Clutch spacer – 3L5-16181-01
Air Filter Element – 3L5-14451-00-00
Carburetor top – 3L5-14158-00-00
Carburetor top gasket – 3L5-14198-00
Throttle cable boot – 3L5-26316-00
Throttle cable – 3L5-26312-00
Engine stud bolt – 90116-06269-00
Reed Valve – 3L5-13613-00-00
Cylinder Base Gasket – 2E9-11351-00
Drive shaft housing cover – 3L5-46154-02
Frame
Yamaha QT50 center stand spring – 90506-29052-00
Rear Fender Stay – 3L5-21614-00
Front Fender Stay – 3L5-21513-00-00
Headlight Ring/Rim – 261-84315-61-00
Left Mirror – 1Y0-26290-10-00
Left Turn Signal/Light Switch – 3L8-W8271-01-00
Front Fender – 3L5-21511-00-00
Foot Peg Rubber – 441-27413-01-00
Kickstand Center Stand Bracket – 3L5-27151-02-00
Speedometer Gear Drive – 3L5-25135-00
Speedometer Drive Meter Gear – 3L5-25138-00
Front Axle Spacer – 90387-10620
Footrest bolt – 90109-08528
Steering ball race – 2E9-23412-00-00
Hexagon screw – 90153-06057-00
Kick lever – 4K5-15612-00
Foot stand bolt – 90109-08528-00
Headlight bolt for reflector – 90109-08534-00
Brake lever – 137-83922-02-38 or 232-83922-31-38
Seat damper – 3L8-24724-00-00
Fitting nut – 2E9-23454-00
Majolica Blue Headlight Bucket – 393-84130-61-4G